The Enjoyment of Carriage Driving

There are two things we enjoy most about carriage driving, they are the people you meet and the cross-country marathons. Carriage driving people are both neat and unique individuals. We feel very fortunate to have met many wonderful people in our lives that have helped us learn the sport of carriage driving. We know if it were not for them we would not be were we are today. It is here were we would like to express our thanks to the wonderful individuals that have truly enhanced our lives, both through knowledge of the sport and with their true jest and enjoyment of life.

Here are a few pictures of our our cross-country marathon adventures. Adventures we truly enjoyed, and I hope you will also enjoy through our pictures.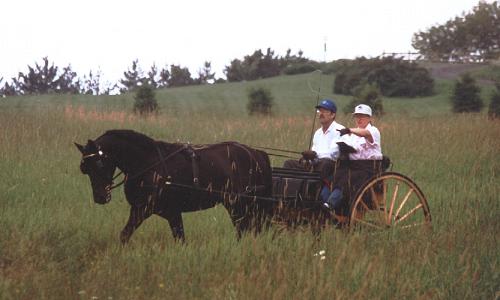 Click on any of the smaller images below to see a larger version of that photo.

The Restoration Of A Carriage

We decided we would like to have a four wheel vehicle to compete with and use everyday with our horses. Four wheel carriages just give a much smoother ride. My husband, Jim, is very much a purest and did not care to purchase a new carriage. So we searched for an antique carriage that would be our four wheel everyday "using" vehicle. Jim, found a carriage stored in a friends attic, in pieces. We decided to buy the carriage and restore it that winter. Well, Jim does not do anything half way. He spent the entire winter in restoration of this carriage. Many nights Jim stayed up working on that carriage sanding and priming on what seemed like forever. He then painted the carriage a beautiful hunter green and black. When finished the paint was smooth and shinny, you could see your reflection in it. It was both elegant and lovely. A master piece of perfection. We then took the carriage to Amish country for restoration of seats, leather sills and pin striping. The Amish asked how long Jim had been restoring carriages as his restoration was close to perfection. I told them it was Jim's second restoration job, a sled was his first. They were almost unbelieving. Needless to say, after restoration the carriage was used only for special events. One of the first events we used the carriage in was Walnut Hill. We entered it in the Horseless Carriage Competition. In the Horseless Carriage Competition each carriage is entered in its own division, by type of carriage. Jim's restoration job won high honors that day at Walnut Hill with the carriage placing first in its' division. Needless to say Jim was both honored and pleased. These photo's depict the carriage beginning restoration, and after restoration at the Walnut Hill Carriage Driving event, both in the Horseless Carriage competition and put to horse.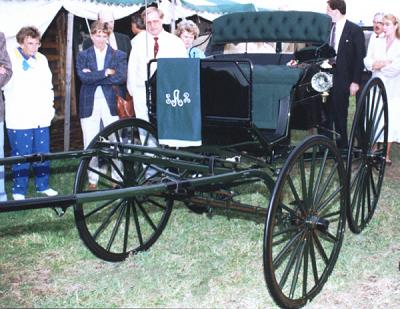 Click on any of the smaller images below to see a larger version of that photo.

The Greenhorns Come A Visiting

I think something must be said about the disposition of a horse that is both tolerant and dependable. I am including this section in the web site to show the degree of tolerance and dependability that our horses have. This set of pictures depict the visits of my "Greenhorn" family. With the exception of one rider all are first class to the core "Greenhorns". Well lets mount up and go for a ride with the "Greenhorns".
Click on any of the smaller images below to see a larger version of that photo.

Part of the band, saddled and ready to ride

Have you ever seen the true definition of a 'greenhorn'? Well, here it is. This is my brother. His passion in life has always been cars. Even in this picture, mounted up, he somehow looks like he is in the automotive driver's seat. He is wondering were the stick shift is and Beau is wondering who he is. This is his second time on a horse.


These next two photos are of a different visit to Kansas in the fall of the year.
The first photo was my brother's second time riding a horse, and these two photo's are of my brothers first time on a horse.


Although my sister has ridden with me before, she somehow has never passed anything but the 'green' stage. Zorro does not question and is tolerant.

Heading out.




On the Trail.


Chad looks experienced and rather dapper in the saddle.

Wendy lives in the East, she loves to ride and knows how to ride. She has traveled and visited many parts of the US. When asked what her favorite place to visit is, she replies, "Kansas." People somehow can not understand this; somehow, I can.

Pony Club Polocrosse

The following photo's depict the summer Pony Club decided to host a Polocrosse Camp. The pony clubers worked hard and had a lot of fun. Both of my son's rode, Eli rode the bay mare Roxanne, and Aaron rode Beau.
Click on any of the smaller images below to see a larger version of that photo.




Ely and Roxanne pictured left rear, Beau and Aaron pictured front center.